There are many marketing tactics out there on how to sell products online. Some businesses have their own way of doing things, and those methods only work for a few companies. BUT, I have seen the Free Plus Shipping Method With Shopify work hundreds of times over! I have implemented this method into my own personal business, and I was able to sell over $10,000 worth of product. Before I get into the details of how you can make a killing with this method, let me first explain how it works exactly.
What is the Free Plus Shipping Method?
A company can advertise a product for $10 with Free Shipping. OR they can advertise the product as FREE, Just pay shipping. Which one sounds more appealing? When the customer goes to purchase a $10 product online, they are going to pay $10 regardless. So why not just "give" them product, when most customers expect to pay shipping anyways. A clear example is shown down below.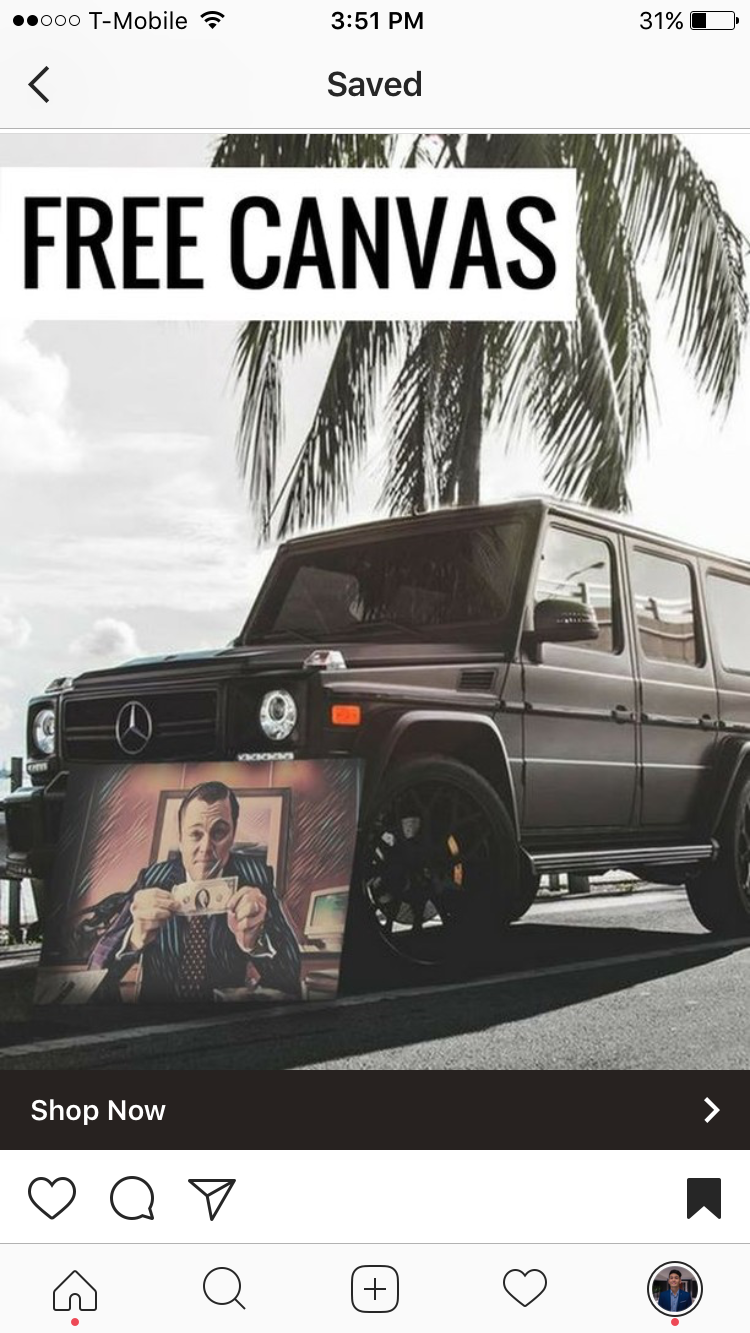 As you can see from the example above, this advertisement is VERY appealing. So appealing that I was even tempted to purchase it. I found this advertisement on Instagram, and it caught my eye because of the simplicity of it and also the word "FREE". Consumers love that word!! It makes them feel like they're taking advantage of a company.

Once you click through to the Instagram page and link in the bio, you end up at their website. You can then add the item to your cart to checkout. Upon checkout we can see that the shipping cost is $16.83.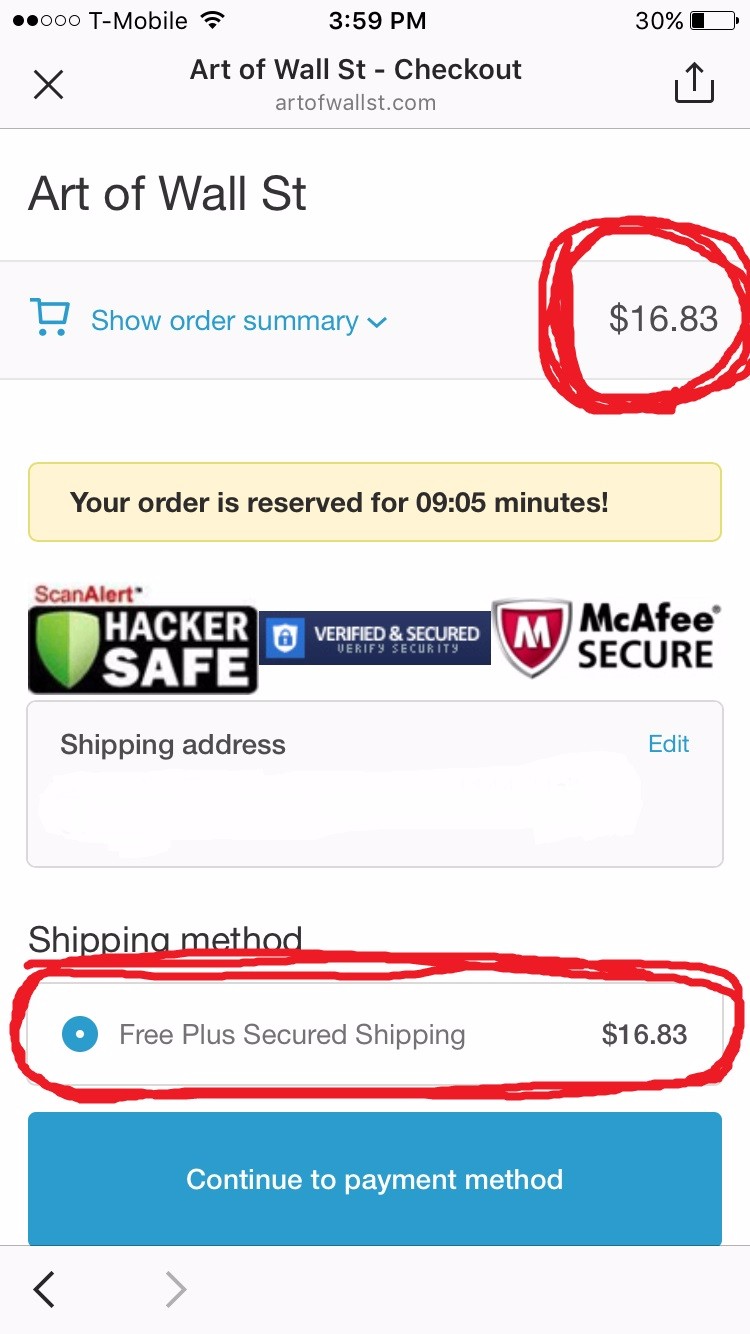 Clearly $16+ for shipping seems sort of ridiculous, considering amazon has free shipping. But, if you set your shipping price for $10-$12 it seems more reasonable. The dropshipping products that I tell my students to look out for are ones that cost anywhere between $0.50-$2 on AliExpress, and they must offer ePacket Shipping (This is for the convenience of the customer). So total the cost of the product and shipping is anywhere from $2-$4. This means, if you charge your customers $12 for shipping and your product costs you $4 from AliExpress, you will profit about $8 per sale. This Free Plus Shipping With Shopify method works, because Shopify offers a user friendly platform to sell products on. They even have apps like Oberlo that will help to import items from AliExpress with the click of a button.
There are more minor details that go into this process, but the general concept is all there. Not all products are winning products, so in order to use this method we need to find products that can sell.
How to Find Winning Products

1. Item Costs $0.50-$2, total cost is no more than $4
2. Has ePacket Shipping
3. No moving parts or hazardous items.
4. Proven to sell
These 4 items are crucial when looking for products to sell, with this method. If one of these are left out, you are at risk for bad results. DON'T PLAY YOURSELF! Follow these steps.
Once you have this criteria, engraved into your skull we can move on to the fun part! Before we can move on any further, install this google chrome extension https://chrome.google.com/webstore/detail/oberlo-a...
This will help with the epacket Shipping. It shows you items that contain ePacket shipping on AliExpress without ever clicking on the actual item. After that is installed, go over to AliExpress.com
If you already have chosen a niche, search for products around that niche. For example, if you have or want to make a dog website, search "dog jewelry". Or if you have a general store, feel free to explore products as you wish. For this example, i'm going to be looking for "dog collars".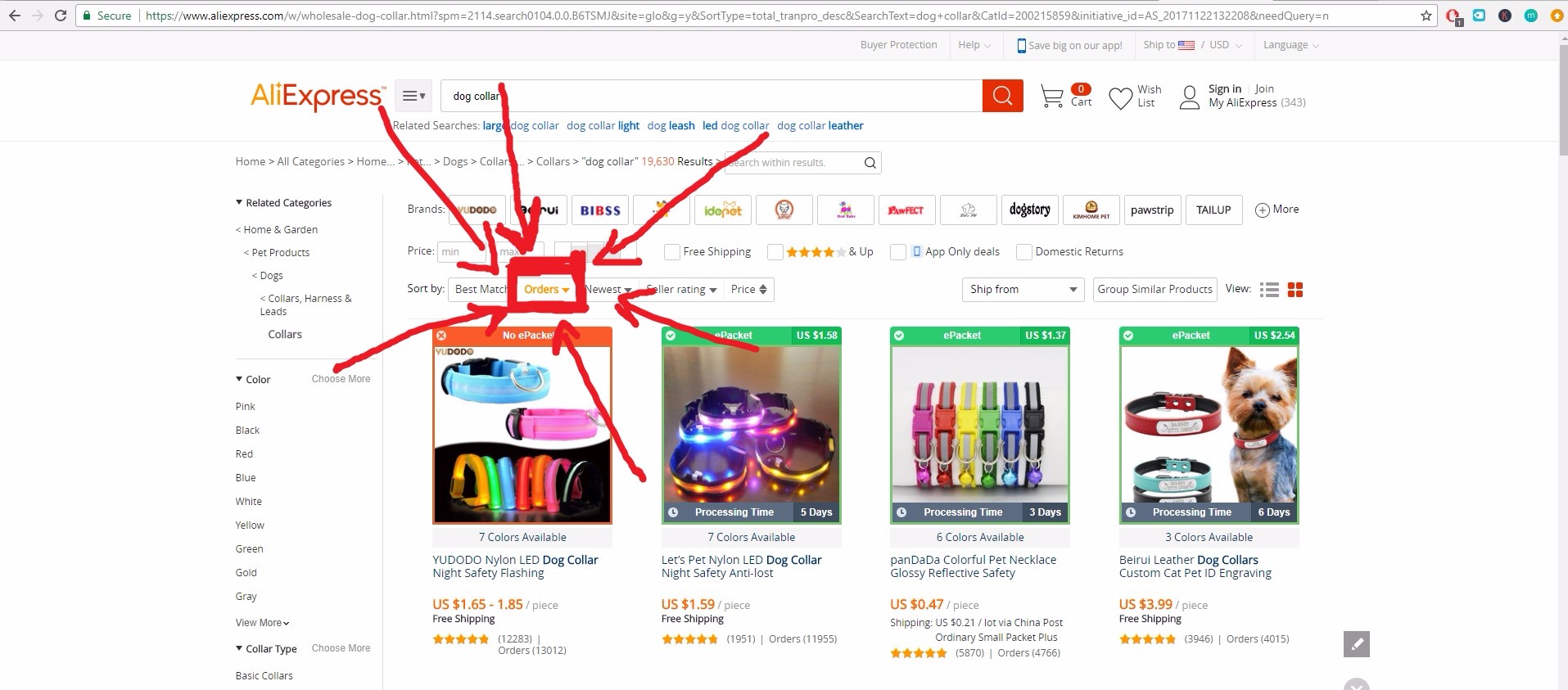 Once you searched up dog collar, go down to where it says "Sort By" and change it to "Orders". This will show you the best selling products on AliExpress. We do this because we want to only sell items that have a high demand. If you've ever taken an economics course, you know that as a seller/business you want there to be more demand that supply. So, only sell items that are proven to sell.

After we sort out our products, you can see that some products have red squares around them and some have green squares around them. With the help of that Oberlo Google Extension, we are able to see the products that have ePacket Shipping. So I can choose to sell any of those items, as long as it meets the criteria. I chose the 2nd one just for this example.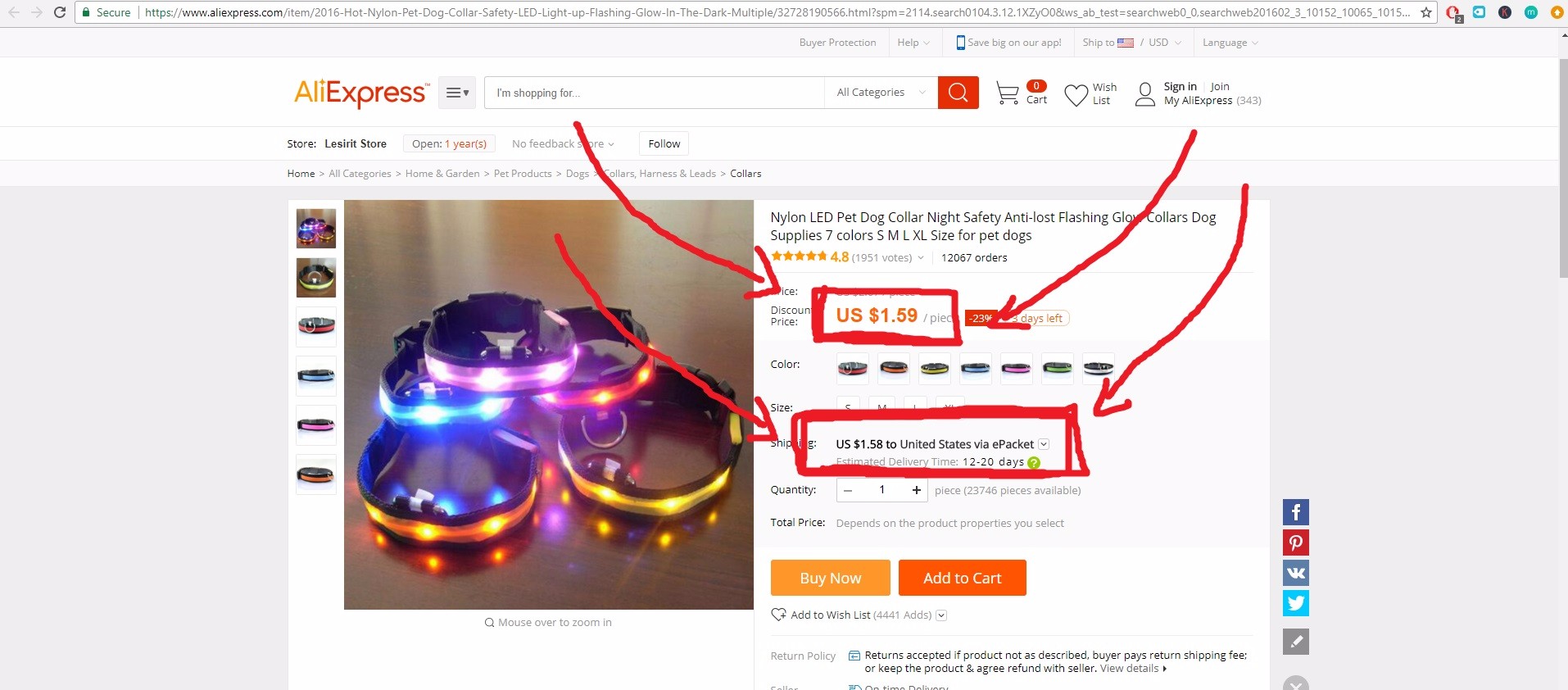 In the photo above, it shows that the item costs $1.59 and the ePacket Shipping costs $1.58. This means that the total cost for this item is $3.17. This fits our criteria perfectly!

1. It costs less than $4
2. Has ePacket Shipping
3. No moving parts or hazardous items
4. Proven to sell (Hence the 12,000+ orders)
Now all we have to do is place this item in our store, change the description a little, and increase our price. If we sell this item using our free plus shipping with shopify method, we can charge $12 for shipping. This leaves us with a $8.83 profit per sale. If we can manage to sell only 14 of these per day were on our way to making $100+ per day!
I explain this process much better in this short Youtube Video down below.
With this same exact free plus shipping shopify technique, a handful of my students are able to make $200+ per day. They're looking for products exactly like the one I just showed you! I have an exclusive course that i'm only offering for a short period of time. This course is absolutely FREE (Valued at $49) all you have to do is reserve your spot Here: https://theecomcapitalist.com/p/free-guide
This is where I explain to my students How to Make Money On Instagram, its as simple as a few steps. If you are interested in getting that first sale, increasing your sales, automating your sales, what ever it is, my Free guide will definitely improve your business and business skills.