Young Entrepreneurs are finding new ways to make money every single day. More people are leaving their jobs and working from home. They are not stuck in a single location. They can work from wherever they want! These young entrepreneurs are not anchored down in a single location because they can work from their handy little device called a cellphone.
Some people may find themselves scratching their head, over the fact that others are making serious money with just a cellphone. If you are wondering how to make money online with Instagram, follow my step by step guide. This guide will show you exactly how to create serious income, within only a few hours.
There are 4 main steps when trying to build an income with Instagram.
First, creating a website through Shopify.
Second, you must understand the concept of drop shipping.
Third, finding products to sell.
Fourth, finding and contacting Instagram accounts
Creating a Website Through Shopify
The first step on How To Make Money With Instagram, is creating a website through Shopify.com. This website allows you to create your own website, and place and sell items with it. Shopify has an interface that is very user friendly. Over 1,000,000 people are using Shopify, and they have sold over $40B worth of items. That's $40 BILLION DOLLARS!!! Although that's not as much money as Bill Gates or Warren Buffet, that's enough dinero to fill up a football field.
Creating a Shopify store isn't the most financial friendly thing someone can do, especially when you can't afford the $40 per month fee they charge. BUT, i'm going to show you how to get a free 2 week trial. This way, you can start making money on Instagram right away, and it can pay for itself. Click this link HERE, to get your free trial. This trial will give you just enough time to make your site look professional. You need to add a few free apps with Shopify, so you can get more sales.
These apps include:
Conversion Plus
Countdown Cart by Beeketing
Oberlo
Sales Pop by Beeketing
These 4 apps are essential to gaining more sales!
They have helped me to sell $4373.90 worth of product, within only 2 weeks.
If you are having difficulty setting up you Shopify Store, I have a step by step tutorial to creating a Shopify store that will generate sales. Its essentially a money machine at this point. If you want to find out more, click Here.
What is Dropshipping?

Drop shipping is a business method/plan that people use to sell products at a very low cost. How is works is, you place items on your Shopify store with an app called Oberlo. Once your customer makes a purchase through your website, you order the product for your customer at a cheaper price. You literally go online and input your credit card info, BUT you input THEIR shipping information. You are pretty much ordering items for them on your behalf. For example, on one of my websites I sell a product for $12.95. Once a customer orders this product, I then order it from a website called AliExpress.com for $3 and get it shipped to my customers. So for each order, I profit about $9.95. Although $9.95 seems like such a small amount of money, imagine doing this on a massive scale. I have sold hundreds and hundreds of these products, resulting in Tens of Thousands of dollars in sales.
Drop shipping allows business to sell items, even if they don't have them in their possession. It is much more efficient and cost effective to drop ship than to order $1000's of dollars worth of worthless inventory. You can test products and markets so much faster, and it's extremely cheap. My personal store started with only $47, and it is now hovering around the $15,000 range. If you are still confused on how the dropshipping process works feel free to watch this video on it.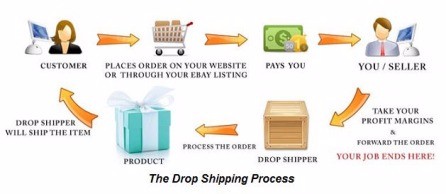 This diagram above also explains drop shipping in a nutshell.
Finding Products To Sell
If you have no idea what products you want to start drop shipping, don't worry I've been in the same boat as you. Finding products to sell might seem like a difficult task, but I follow a few guidelines to help you along in the process. If you want to learn how to make money on Instagram, this is the exact method I follow.
Guide lines to finding a product:
Choose a passionate niche
Small (Cheap to Ship)
No electronics
Can resell for 3-5 times the cost
Choosing a passionate niche
You must find a niche (market) that is passionate about their hobby/interest/career...etc. Whatever your audience is into, they must LOVE what they do. For example, bakers love to bake. They love cookies, cakes, pies, the list goes on and on. I'm going to sell cookie cutters to bakers, because bakers love to bake. I am NOT going to sell a grilling spatula to a baker, because that is not their passion.
Here is another example. I have stumbled across a few niches that look passionate, but they are not. There are some niches out there that people are interested in, but they are not passionate in or it is just too broad. When they see products based around that niche, they do not purchase because they are not connected enough. For example, "Dogs" are a bad niche. Although every dog owner I know loves their dog, it is simply not narrowed down enough. Not all pitbull owners love chihuahuas and vice versa. When you think of passionate niche, think narrowed down. They must be super targeted and very specific. Pitbulls and Chihuahuas are a perfect example of a passionate niche. They are very targeted.
If you have trouble with finding a niche, or anything else drop shipping related, join my FREE Facebook Group. You can ask me personally, or ask any of our members.
Size of Products
When it comes to finding the size of your product, you want to find ones that are small in size. Products that are small, are usually offered with free shipping or very cheap shipping under $2. Getting products with cheap shipping rates, allows you to keep more money.
For example, pretend I sell an item on my website for $50. When I order the item for my customer on AliExpress, it costs me $10 and the shipping is free. This means I get to profit $40.
Now, say I sell a larger item on my website for $50. But, when I order the item for my customer on AliExpress, it costs me $10 and $5 for shipping. Now I only profit $35. If I make 1000 sales, I already lost $5000 just in shipping costs alone!
Following this simple rule can help to save a lot of money and headache in the long run. It is important, especially in the beginning stages, because not all of us have the luxury of losing capital as soon as we open our Shopify store.
No Electronics
AliExpress is a very good website for purchasing cheap product straight from China. So the electronics and anything with moving parts is usually a red zone. This is also a liability issue, and refund/return issue. I tend to stay away from products like these when necessary.
Can Resell For 3-5 Times The Cost
I look for products that can resell for multiple times the cost. Items that look cheap and breakable usually can't be sold for very much. People know that some items are cheaply made, so paying a premium price for them will only cause harm. Would you ever give your fiance an engagement ring that looks like it came from a cereal box? Of Course not! So why would I sell an item to my customers and label it as something that it's not. Look for items that cost cheap but look durable. You want your customers to be happy with their purchase.
Finding and Contacting Instagram Accounts
When you first go onto Instagram type in niche related terms. For example, if i'm in the pitbull niche type in "pitbull" in the Instagram search box. This will pull up a list of relevant pages relating to pitbulls (hopefully not the rapper pitbull).
Once you find pages related to your niche, there are a few rules when finding Instagram accounts.
Over 50K followers
Don't use a ton of hashtags
Gets a lot of engagement
Real Followers
Follower Count
You want to use pages that have over 50K followers because a lot more people will see it and it is more cost effective. I personally look for pages that have around 1M+ followers. Because out of the hundreds of thousands of people that see it, one person is bound to purchase.
Hashtags
When people use hashtags it usually results in bots liking photos and fake followers. If pages use hashtags, they are fishing for fake engagement.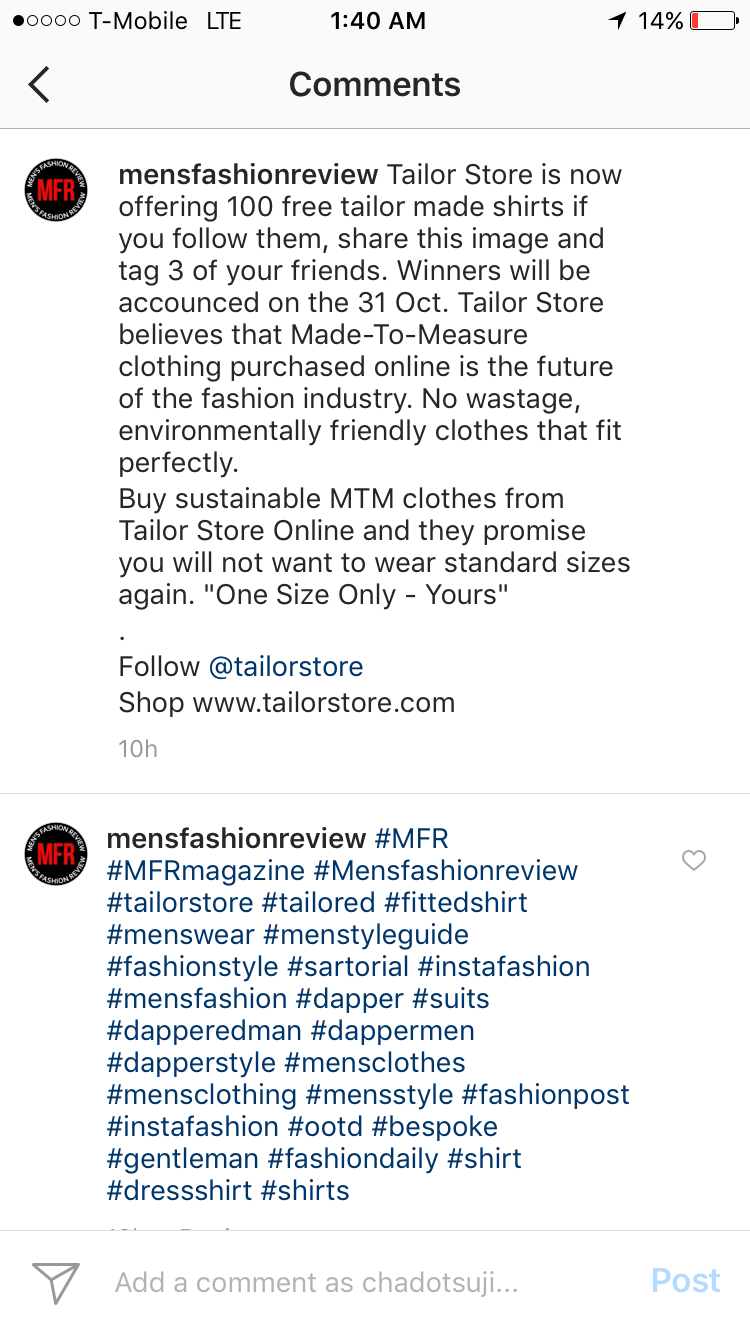 What's wrong with the photo above (besides the fact that I need to charge my phone). Yes, they use too many hashtags! This is a red flag! Do not use this page. You will be wasting your money.
Engagement
There is a rule for engagment with instagram pages. Follow the 3-5% engagement rule. For every 100,000 followers a page has, they need 3,000-5,000 likes on average. So this means for every 1,000,000 followers a page needs 30,000-50,000 likes per picture on average. Hence the 3-5%.
Real Followers vs Fake Followers
To check the authenticity of a Instagram page I use Socialblade.com. If you look at the graph you can see if a page is real or not. If the line is smooth with no huge spikes, it is most likely authentic. If it has huge spikes it is fake.

Above is an example of a fake page. They have gained 100k followers in the matter of a few days. Do not use pages like these!

Above is an example of a real page. They have a smooth curve with very little bumps in them. They are organic, and they will get you the sales you need. Use pages like this!

Once you find pages like these, it's time to email them (if available) or Direct Message them. Tell them "Hey i'm looking for Instagram pages to advertise my products, how much do you charge". If they respond with a reasonable price (usually in the $10-$100 range) send them your picture and a caption of your product. Most pages liked to be paid via Paypal. Make sure you pay them using "Goods and Services". Then once they post your photo people will click on your page, click the link in your bio, visit your website, add the item to their cart, and hopefully purchase.
Summary
To sum this entire article up, you must follow these 4 key steps in order to make money on Instagram. If you create a Shopify website, understand drop shipping, follow my product research criteria, and contact REAL Influencers, you will succeed in drop shipping.
There are a few more secrets that I know that are proven to get thousands of sales. But, I only give those out to the people who are dedicated to learning and mastering drop shipping. If you truly want to become an entrepreneur and create a full time income online, join my drop shipping course where I teach my students how to make money using Instagram. You can find the link to my course HERE.